As you can imagine, lots of tools are needed for a job this size. A huge variety too!
A project like this is all the excuse any red-blooded American guy needs to go and buy himself some!
(grunts and scratches himself inappropriately)
Here we'll post what we got, why we got it, and how successful it was at what we needed it for.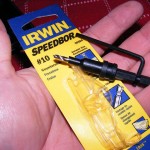 So yeah…using a tool…to do some tool kind of stuff…'cause tool kind of stuff is the sort of stuff you do when tinkering on Old Victorians… …and then of course…I needed the tool to fix the tool…which I couldn't find … Continue reading →