My Mom and Mike (my stepdad) own a house just down the street from the Old Vic. While it is not as old as the Old Vic, it is at least 75 years old and is an interesting house, sitting on about an acre.
Anybody that likes old buildings and large yards would love the place. Solid, peaceful, and green, with large trees and open spaces.
Like all old houses, there is work to be done. I'll post anything interesting here.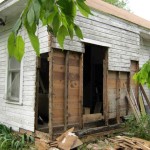 A severe storm last week damaged part of my Mom's house. A badly done 50+ year-old addition was suffering from exposure and rot anyway, and was on the (eventual) list to be modified or somehow repaired…we just hadn't decided quite … Continue reading →