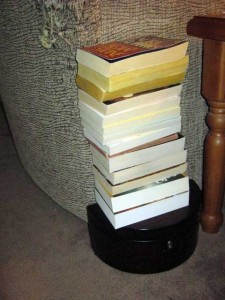 We are so geek…walked into the living room this morning, eyeballed a couple new "features", and had this exchange with the wife…
"Symmetrical book stacking. Just like the Philadelphia mass turbulence of 1947."
"You're right, no human being would stack books like this."
Y'all DO recognize the quote, yes? If not, you are not geek enough to be healthy…or are either way too old…or too young…to drive.
These piles…they are growing…all over several rooms of TWO houses and our store…one theory says it's because the bookshelves are full and I've not built any new ones yet…
The other is ghosts.
I prefer the ghosts…because it's the explanation that involves the least amount of "it's my fault" as is possible.
…and I'd guess I need to get started on more shelves.
CUAgain,
Daniel Meyer (shelf builder extraordinaire)