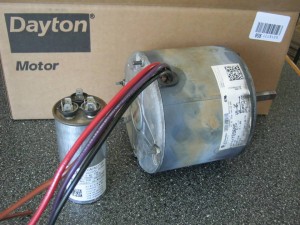 I can always tell summer is coming…as the air-conditioning will quit in one of the buildings I dink around with. Keep in mind, we run the air here starting as early as March oftentimes…and it will work perfectly…until the summer heat *really* begins to crank up. Then, at least one, will die.
So…the air conditioning went out at the suburban 'blah' house yesterday afternoon. First hot day of the year, of course!
Good/Bad
Bad: The AC quit.
Good: The company that installed it included a lifetime warranty on anything not covered by the factory warranty.
Bad: That company is out of business. Imagine my surprise.
Good: The company that took them over says they will honor service policies.
Bad: There's no record of this as a service policy. It was apparently a condition of sale statement.
Good: The factory warranty should still be in effect.
Bad: The previous company seems to have failed to register the equipment with the manufacturer.
Good: Well…there's nothing good about this.
-One trip to Graingers. They absolutely rock, btw.
-$160 motor (grumble stupid two speed motor grumble grumble).
-$17 capacitor.
-One trip to hardware store for wire crimps.
-4 glasses of iced-tea.
-Mix well. Shake until lathered. Rinse. Repeat.
It's aalivvvvveeee! ALIVE! MuHAHAHAHAHAHAHAHAHAHAHAHAHA!
And, just to be helpful…the AC company finally called back. They say they can come out Friday at full rate.
Some days it just don't pay to buy the good stuff…
But….AHHHHHHH! Cool air!
OCCASIONALLY glad I have "skilz"
Minions
Sooo…while working on the AC today…I decided that yes…I can fix or build anything as long as I have a q-tip and a fistful of cash…
Removing panels, pulling parts, checking circuits, diagnosing the problem, putting new parts in…making a couple minor improvements…etc…well, it occurred to me…
I need to be an evil genius.
I think I am already in fact…I have TWO buildings with towers…suitable evil headquarters of doom…
But…
I need minions