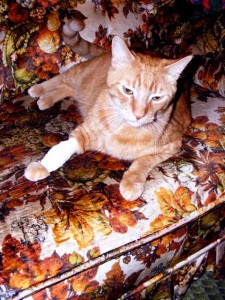 "toc toc thump, toc toc thump"
The sound of a gimpy Geronimo the big orange cat wandering around the house. He got into a fight with a foreign (not ours) cat. He was apparently bitten into the joint. Vet had to open it up, clean it, and flush it out with antibiotics.
"toc toc tic thump, toc toc tic thump"
This morning he is putting some weight on it, walking more normally, and is obviously feeling better.
Antibiotics for a week, bandage off in 5 days. Visit the vet again next Saturday. Vet said the joint damage will probably effect him as he ages, but he should mostly fully recover.
Sadly, there is no cure for the 1970's floral print couch in the picture.
Update Monday…
Well, Geronimo the big orange cat is feeling well enough that he crashes all about the house at very high speed in order to avoid taking his medicine…