So, yeah, I was bummed.
Sick too. Blearrg.
Just a week ago we had paid off the mortgage on The Cupola. This is a big deal for us. It was a strain too, tapping financial reserves.
So, what happens the very next weekend? Well, the storm happens, and tears off a chunk of our roof. There is nothing quite so discouraging as a waterfall inside your building…except maybe standing there looking up at the sunlight shining through the roof the next day.
Thursday in the wee hours of the night, unable to sleep, or even relax, I was dejectedly sitting on the couch, trying to breathe. Attempts to quiet my mind were fruitless and I simply found myself enduring…and waiting for the cold and asthma medicine to kick in.
Combining the aches and stuffed head of a cold, the adrenaline rush and difficulty breathing of an asthma attack, and the stresses and worries of a major problem is not a good combination for sleeping.
I had just spent a ton of money (over $500) that I really could not afford, on materials I could only hope would do the job, to do the roofing that I was pretty sure it was too big a job for the help I had available in one weekend. Sometimes things have to be done, even if they look impossible from the beginning.
Depressed. Hyper at the same time. Frustrated.
Feeling sorry for myself. Alone in the night, wondering why I even go on…
At that moment, Pierre the Polydactyl Maine Coon cat, trots up, lays a big green tree leaf in my lap, mumbles at me (he makes this noise when he is "talking"), and then lays down on the couch beside me.
He was clearly saying, "Here's a leaf to make you feel better."
It wasn't much, but it was his…and he gave it to me to make me feel better.
It did.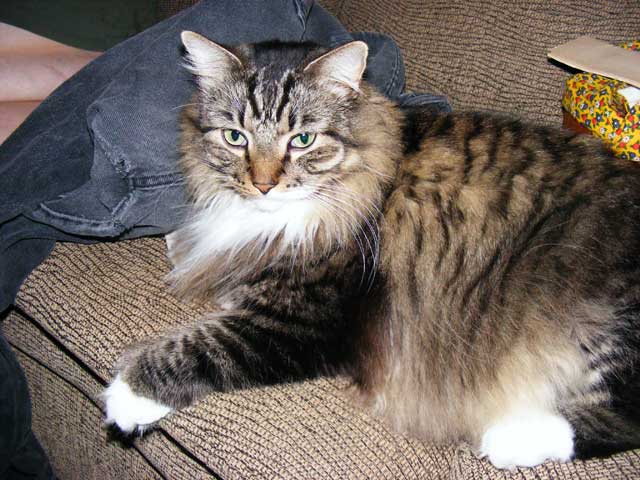 CUAgain,
Daniel Meyer